Selected old items from 'News and Events', which contain lasting information, are available on a new page.
It has information on The opening of Jack Judge House - The Old Magistrates Court and Police cells - The Pauper Memorial - The Worcestershire Regimental Museum - St Michael and All Angels Church sale - The Mortuary Chapel demolition at Oldbury Cemetery, Rood End - Fire at the Langley Maltings - Fire at Langley Distillery - Olympic Flame
For really up-to-date happenings see our facebook page:
Current items
| | |
| --- | --- |
| Blue Plaque to Jack Judge | GO |
| Oldbury Grammar School Demolished | GO |
| Albright Secondary School GOES | GO |
| Jack Judge Recognition | GO |
| Langley LHS book "Selling and Shopping in Langley" | GO |
Oldbury's first 'blue' plaque will be unveiled at 10.30 on Friday 28th August 2015. It will commemorate the life and achievements of Jack Judge, Oldbury's fishmonger composer.
Jack Judge wrote many music hall songs, but is now remembered for just one of them, 'Its a long, long way to Tipperary' which was adopted by the soldiers of the First World War as a marching song. His life story and achievements are recounted elsewhere on this site.
He sold fish from a cart in front of the Junction Vaults in Birmingham Street, and the blue plaque is mounted on the wall of the Rights and Equality Sandwell building (28 Birmingham Street) overlooking the spot where he had his cart.
There will be a brief ceremony at which Jack's closest descendant, his great grand-daughter Mrs Gillian Nicklin, will unveil the plaque. The picture below shows her with the plaque, which has the opening line of the chorus of 'Tipperary' on it.
---
It seems to be the fashion to demolish all the buildings we grew up with! The Oldbury Grammar School building which was opened in 1926 finally came crashing to the ground in August 2015, a life of eighty-nine years. In this period it saw many changes, and provided opportunities for thousands of Oldbury schoolchildren, helping rich and poor alike to good careers.
It started life as Oldbury County High School when Oldbury's only Secondary School moved from Flash Road in Oldbury. After WW2 it became Oldbury Grammar School, and after 1974, when comprehensive education was introduced across the borough, it became a comprehensive school. After other changes, it finally closed its doors a couple of years ago.
Through all these changes, its facade on Moat Road remained largely unchanged. Around 2010, there were plans to retain the front of the school and build a new school behind it, until these were blocked by the Education Ministry under Michael Gove. So now it has gone, flattened to make way for a new school, Q3 Academy.
Judging by the responses on our facebook page, a few people will be glad to see it go because they did not enjoy their time there. But for most of us who had a good education there and found it enjoyable, it will bring a lump to the throat!
These pictures, taken 15th August 2015, show the final demise of the building as the front is chewed away by a JCB. The old woodwork room has gone, and the old dining hall is being eaten away. Below are the gutted, but still standing, caretaker's house, and the dome, that once stood proudly over the front door, cast away on the pile of debris.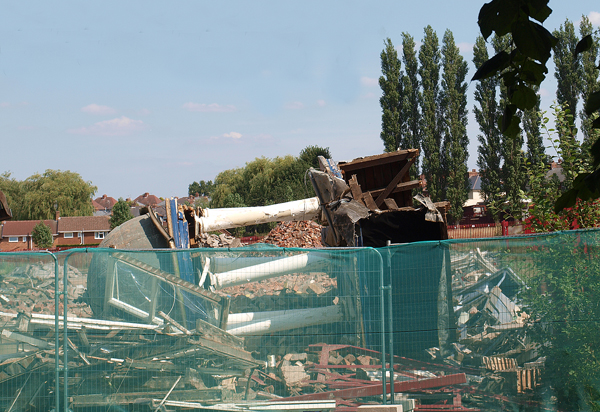 Finally a reminder of how it looked soon after its opening in 1927, when it was the County High School. Ahh!
---
Another piece of Oldbury's history has disappeared with the demolition of the buildings of Albright Secondary School in Pope's Lane. The buildings ceased to be used as a school when it merged with Langley High School in the seventies, but has found a use and purpose until now. However, with the rest of the family silver it is being sold off in these times of austerity, and Sandwell Council is selling it to developers for industrial use.
If you have memories of the school or photographs why not contact us via our facebook page. Here's an image from around 1934 when we were able to boast about immovations in the Borough of Oldbury - "the most up-to-date Elementary School in the Midlands"
---
The 'Oxford Dictionary of National Biography', now published on line, has recently included the life-histories of a several Black Country people in its latest edition, including Jack Judge, Oldbury's best-known entertainer and song writer.
The article was written by Dr Terry Daniels, who said, "It is another opportunity to spread the facts about Jack's life as well as they can be established, seventy-five years after his death. I tried to present what can be established in a balanced way, taking into account all the documented sources, but also reflecting the many stories about him, especially those relating to the writing of 'Tipperary'. The account echoes the more detailed biography set out on this website."
The life-story can be read by subscribing to the DNB on its website, www.oxforddnb.com.
Members of Sandwell Libraries (and most other public libraries) can get access to the site free by entering their library card number at the login for public libraries, selecting 'Sandwell Libraries and Information Service', and searching for 'Jack Judge', or any of the other 55,000 entries. Its nice to get something unexpected from your council tax!
---
After a decade of research and writing, Langley Local History Society's new book on shopping in Langley was launched in November 2013,

The book is called "Selling and Shopping in Langley". It covers Langley, Langley Green, Rood End and Causeway Green, and is based on recollections, analysis of trade directories from the 1880s to 1940, advertisements and newspapers. There are three main sections:

the development of Langley and its shopping facilities

chapters covering butchers, fishmongers, greengrocers, grocers, bakers, confectioners, clothiers, shoemakers, builders & household services, newsagents and leisure services, garages and transport services, doctors and medical services, bankers and financial services, and others (that we could not fit into the preceding chapters)

tables for the main shopping streets showing the occupants of shops from the 1880s to 1940.

200 A4 pages, nearly 400 pictures and advertisements

fully indexed for traders, subjects and places

And all this for only £6.00

200 copies available - buy through this site
---